Verify the authenticity of your Amber Experts report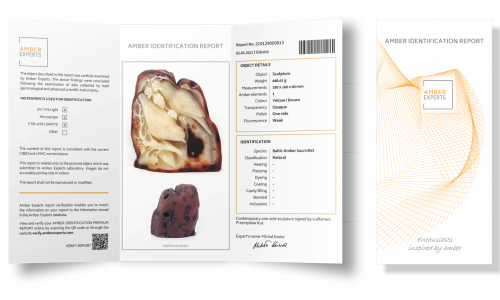 Amber Identification Report
Soft cover folded report. Complete identification and enhancement documentation with science based information, professional judgements and hi-quality pictures.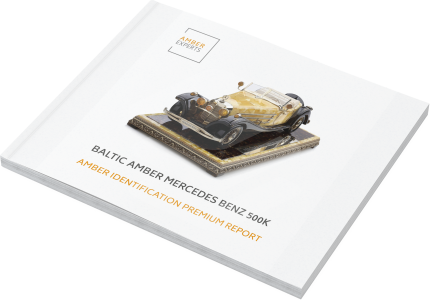 Amber Identification Premium Report
Hard cover book format report containing the full professional data collected and multiple pictures. Premium reports are limited to exeptionally rare items.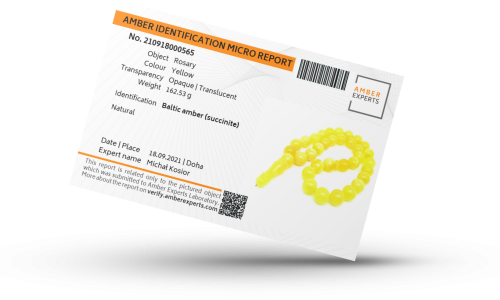 Amber Identification Micro Report
Plastic, credit card-sized report containing
judgements and basic data.
Is an economic and convenient choice for amber objects.
Laboratory Report
Report is applicable for fossil and subfossil resins (copals), natural and synthetic amber simulants. A4 format report contains science based information and professional judgements.
We provide testing and identification of amber, fossil and subfossil resins (copal), natural and synthetic amber simulants, valuation of amber jewellery and raw amber, support from collaborating experts, consultations and more.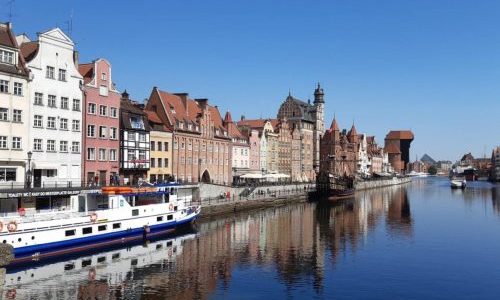 Amber Experts
Gdańsk | Poland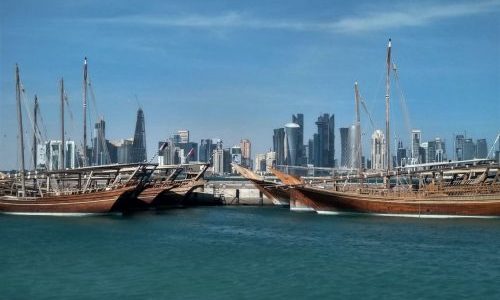 Amber Experts in Katara Cultural Village
Doha | qatar
Gemmology lab analyses performed by certified experts
Various types of reports to document the test result
Mobile Lab Service
A case-by-case approach
Collaboration with experts in palaeontology, archaeology, geology, gemmology, chemistry and art history
A continuously expanded library of reference samples
Continuous contact with the industry's producers and suppliers
Ethical approach, impartiality and reliable appraisals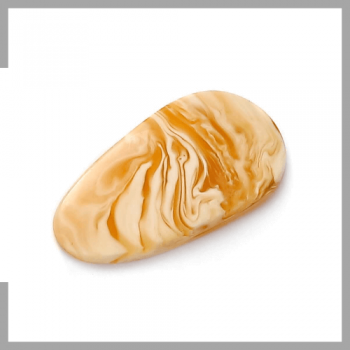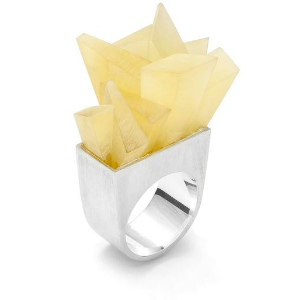 Jewellery manufacturers
Complete product batches
Customised product lines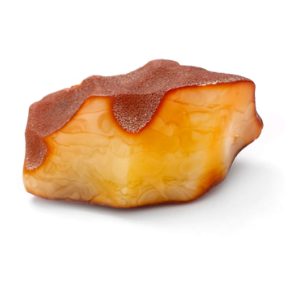 Collectors
Natural specimens and inclusions
Historical artefacts and works of art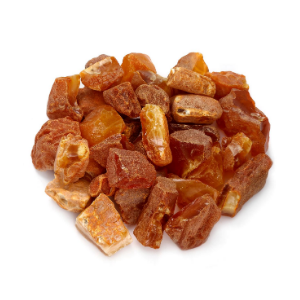 Customs and tax chambers, police and courts
Raw amber, components and finished products
We especially appreciate our long-term cooperation with Michał Kosior. His commitment and continuous pursuit of what's new in the world of amber have allowed us to update our educational collection and keep it "fresh" in the courses that we provide
I find that Michal Kosior is very professional.
His expertise and knowledge of amber is truly profound.
I have benefited from Michał and Agnieszka's appraisals multiple times. My purchases were safe because they always accurately detected all and any treatment. My customers felt safe because of the tests which they had performed.